---
salus populi est suprema lex
---
Buhay mo, hawakan mo
Kinabukasan mo, ipaglaban mo.
Pinuno mo, bantayan mo.
Suffrage is such a valuable right to be wasted on charlatans and blackmailers and other persons without principles. Let us not forget our historic struggle for the opportunity to live as freemen and manifest our sovereign will through the inviolate ballot. We should learn from the foolishness of the past elections. This time, let us not vote against ourselves. ~ by Isagani A. Cruz, Philippine Daily Inquirer
Tama na . . sobra na . . palitan na ang mga


Corruption in the Philippine Armed Forces
Mga Magnanakaw sa Kaban ng Bayan


Defense Secretary Angelo Reyes



Sinong niloko mo? Gago!


LOANS from a bank and from relatives and friends, according to Interior Secretary Angelo Reyes,
financed the building of his P10-million house on Aquino Street, AFP Officer's Village in Fort Bonifacio, Taguig.


A RETIRED general is in the spotlight for his fat bank account and several pieces of property, including two restaurants -- one in Cebu City and another in Bulacan province, which he declared only last year.

Official records furnished by a nongovernment organization showed that "cash and bank deposits" of Interior Secretary Angelo Reyes soared 5,381 percent to P4,111,000 in 2003 from only P75,000 in 2002. Read more . .


---

Major General Carlos F. Garcia - Took Stole P44 million


brought about P44 million into the United States the past 11 years while living on a salary of P37,000 a month

NEIGHBORS say this two-story house under construction at No. 11 Jaime Street, Carmel Subdivision, Quezon City belongs to Major General Carlos F. Garcia . . . and so are the following -- a $765,000 Trump Park Avenue Condominium at 502 Park Avenue, New York; a $750,000 apartment at 222 East 34th Street, also in New York, and a house at 625 Vancouver Drive, Westerville, Ohio (value of the Ohio house remains undetermined). Read more . . .

More ill-gotten wealth by the Garcias


---
Ilang pogi points ba ito?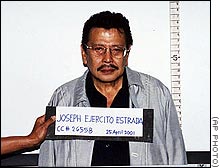 * Katangahang Kinatatawanan *

Featured TRAPO of the month:
Major General Carlos F. Garcia
Interior Secretary Angelo Reyes


Archive Miriam "Brenda" Defensor-Santiago
Joseph "Erap" Ejercito Estrada
Abangan! Juan Ponce Enrile
Urban TRAPO by Fr. Robert Reyes
---
---
~ Pisara ng Balitaktakan ~
News Update on TRAPOs * Anomalies and Controversies * Justice Served
Sign Our Guestbook * View or Guestbook * Links
Ang Katotohanan [the Truth]
---
Site Created and Maintained By Edsa Katarungan
Since January 24, 2001
Last Updated: October 18, 2004
Disclaimer:
If you would like the article about you or your picture to be excluded from this site,
sorry ka na lang. Ito ang hatol ng bayan. Bato-bato sa langit, tamaan talagang pangit.